PMC has announced the program of National MDCAT Registration 2022. In this article, you will find details on how to register online. This is quite a tough test and 50% weightage is marked for this entry test.
Pakistan Medical Commission (PMC) has issued 7 different important notifications. These notifications are about MDCAT Schedule & Registration, MDCAT Passing Criteria, and Admissions in Medical & Dental Colleges. The online registration for MDCAT 2022 shall commence on 25 May 2022. PMC shall conduct MDCAT from 07 September to 30 September 2022 in 20 different cities across Pakistan. PMC has suggested considering fixing the MDCAT passing percentage for the BDS program at 55%.
National MDCAT is obligatory for all candidates to get admission in MBBS/BDS databases across Pakistan in all Public or Private Medical institutions.
National MDCAT Online Registration 2022
For National MDCAT Registration 2022 simply go to the PMC website pmc.gov.pk & tap on the registration portal. Provide the required information in the form & submit it.
Eligibility Criteria for MDCAT
F.Sc. (Pre-Medical) with  Physics/Math, Chemistry, and  Biology.
At least a 65% score is obligatory.
Applicants waiting for the declaration of result can apply also.
Overseas candidates possessing double nationalities can also apply for the MDCAT Test for open merit seats.
The Test will take place on provided date & time according to National MDCAT Syllabus 2022.
Required Documents for MDACT Registration
Prepare the following documents before you start online National MDCAT Registration:
Domicile
Current Passport Size Picture
CNIC/B-Form
Matric Result Card
Intermediate Result Card
How to Apply for MDCAT Entry Test
1. Go to the https://pmcexams.pmc.gov.pk/
2. If you are a new user then click on New User.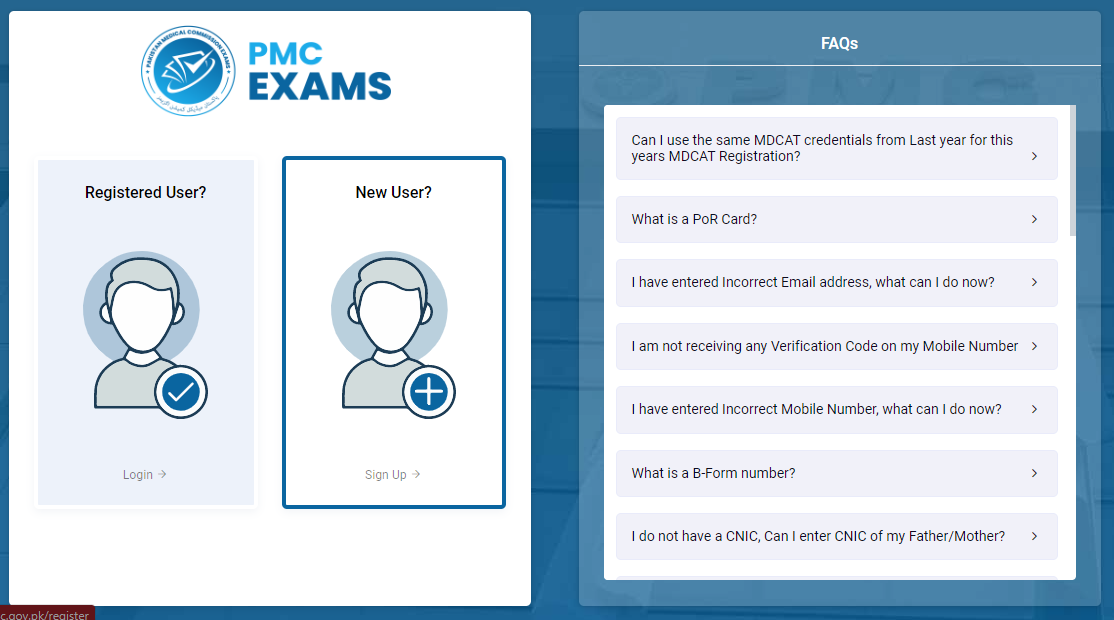 3. Now fill out the form and click on Register.
4. You will receive an email for verification. Click on the link in your email and log in with your email and password.
5. Complete your Personal Information and Educational Information.
6. After filling out the details download the Chalan for the MDCAT exam fee. There are three options for submitting the exam fee. (i) Credit/Debit Card, (ii) Jazz Cash, and (iii) Bank
MDCAT Exam Fee
The MDCAT Application charges are Rs.6000/- and it isn't refundable.
MDCAT Registration Guidelines
You need to fill out the required details carefully, particularly in delivering your Mobile Number & Email.
You will receive all announcements regarding the MDCAT Entry Test 2022 by Gmail or text message on the specified cell number and Email ID, so double-check both of those.
The login will be established as soon as you supply all the necessary data.
Log in to your account now.
Now complete the application form by entering personal information and academic details taken from the supporting materials.
Upload the subsequent official documents right away: A passport-size photo with a white or blue background, ABL HBL MCB, B-form, and Both Sides of CNIC, NICOP, or Passport
Send in the payments in time to receive a copy of the fee challan bearing the bank's stamp and the paid TID.
Scan a copy of the fee challan and pin it to your MDCAT account once more. To upload a Challan scan copy, log in to the MDCAT Portal.
Click the final Submission key to finish your national MDCAT registration for 2022 after successfully uploading a scanned document.
When the option to print the application appears, select it to print the application form.
Send the completed application together with a true copy of the payment challan to the following address.
National Testing Service Pakistan – Plot 96, Street # 4, H 8/1, Islamabad.
MDCAT Faqs
What is the last date of PMC registration in 2022?
PMC has opened the online registration for MDCAT 2022. The last date for submitting online registration is 25 May to 15 July 2022. So, dear students, get ready to submit your applications as soon as possible.
Is a Juvenile card necessary for MDCAT?
No applicant will be permitted or registered to appear in MDCAT if he or she doesn't have a CNIC or Juvenile Card allowed by NADRA. On the other hand, overseas or foreign Pakistani applicants can submit their genuine passport or POC or NICOP as an alternative to CNIC/Juvenile Card.
What is the age limit for NADRA smart cards?
NADRA smart cards are necessary to acquire documents such as NTN, license, bank account, cellular connections u0026 passports, etc. All citizens of Pakistan who are 18 years u0026 above can get NIC.
When PMC MDCAT Entry Test will take place?
As we have mentioned this point to you above as well that this MDCAT test is expected to take place in August or in September. This MDCAT test is for the medical and dental college admission test. Passed-out students are then enrolled in the medical and dental colleges which work at the public sector government level.
Conclusion
We pray for your best future. We hope that this article will provide you with all the important details on PMC National MDCAT registration in 2022. Ask us anything else in the comments section below if you have any other questions. We'll get back to you as soon as we can.