3D printing has transformed the landscape of manufacturing, going far beyond its initial role as a prototyping tool. This revolutionary technology has evolved, disrupting traditional manufacturing processes and enabling innovation across various industries. In this article, we will delve into the 3D printing revolution, exploring its history, applications, advantages, and the future it promises.
The Genesis of 3D Printing
The journey of 3D-printing began in the 1980s, when Chuck Hull invented the stereolithography apparatus (SLA) and founded 3D Systems Corporation. This marked the birth of additive manufacturing, where objects are created layer by layer, unlike subtractive manufacturing, which involves cutting away material from a solid block.
Types of 3D Printing Technologies
Today, there are several 3D-printing technologies available, each with its unique set of capabilities. These include:
Fused Deposition Modeling (FDM)
FDM is one of the most common 3D-printing techniques. It involves the extrusion of thermoplastic materials through a heated nozzle, layer by layer, to create an object. This technology is widely used in rapid prototyping and hobbyist projects.
Stereolithography (SLA)
SLA employs a vat of liquid photopolymer resin and an ultraviolet (UV) laser to solidify the resin layer by layer. It is renowned for its precision and fine detail, making it a favorite in industries like jewelry and dentistry.
Selective Laser Sintering (SLS)
SLS uses a high-powered laser to sinter powdered materials, such as metal, plastic, or ceramic, into a solid form. This technology has found applications in aerospace and automotive manufacturing.
Binder Jetting
Binder jetting involves selectively depositing a liquid binder onto a powder bed, layer by layer, to create an object. It is used for producing metal and ceramic parts, making it invaluable in the manufacturing sector.
Applications Across Industries
The versatility of 3D printing has led to its adoption in various sectors. Let's explore some of the prominent applications:
Healthcare
In the medical field, 3D-printing has revolutionized the production of prosthetics, dental implants, and even customized surgical instruments. It has also played a crucial role in creating anatomical models for surgical planning.
Aerospace
Aerospace companies utilize 3D printing to fabricate complex, lightweight components, reducing fuel consumption and enhancing performance. This technology has shortened production cycles and lowered costs.
Automotive
The automotive industry benefits from 3D-printing by enabling the rapid prototyping of vehicle parts and the customization of car interiors. It contributes to faster innovation and design iterations.
Fashion
Fashion designers and enthusiasts have embraced 3D-printing to create avant-garde clothing and accessories. This technology allows for intricate, customizable designs impossible with traditional methods.
Advantages of 3D Printing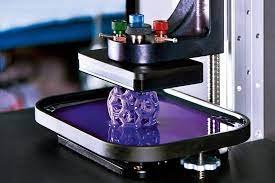 Cost Efficiency
3D printing reduces material waste and labor costs, making it an economical choice for small-batch production and prototyping.
Design Freedom
The technology offers designers unparalleled freedom to create complex geometries and intricate details, pushing the boundaries of creativity.
Rapid Prototyping
With 3D printing, product development cycles are significantly shortened, enabling faster time-to-market for new innovations.
The Future of 3D Printing
As technology continues to advance, the future of 3D-printing looks promising. Some potential developments include:
Bioprinting
Bioprinting could revolutionize the medical field by enabling the creation of functional organs and tissues for transplantation.
Sustainable Manufacturing
3D-printing promotes sustainable manufacturing by minimizing waste and energy consumption, aligning with global environmental goals.
Space Exploration
3D printing is expected to play a pivotal role in space exploration, allowing astronauts to manufacture tools and parts on-demand during missions.
Conclusion
The 3D printing revolution has come a long way, from its humble beginnings as a prototyping tool to becoming a driving force in various industries. With its versatility, cost-efficiency, and endless possibilities, 3D printing is set to reshape the future of manufacturing and innovation.
Read More: What Is Multimodal Therapy?
FAQs
Is 3D printing only used for prototyping?
No, 3D printing has expanded its applications beyond prototyping and is widely used in industries like healthcare, aerospace, automotive, and fashion.
What are the key advantages of 3D-printing?
The key advantages of 3D printing include cost efficiency, design freedom, and rapid prototyping.
What is the significance of bioprinting in 3D-printing?
Bioprinting holds the potential to create functional organs and tissues for medical purposes, revolutionizing healthcare.
How does 3D-printing contribute to sustainable manufacturing?
3D printing reduces material waste and energy consumption, aligning with sustainability goals.
What role will 3D-printing play in space exploration?
3D printing will enable astronauts to manufacture tools and parts on-demand during space missions, reducing reliance on Earth for resupply.
Read More: Behavioral Therapy Techniques for Anxiety and Depression